I'll have to admit, there is something extremely "geeky" to having control of all my digital content. When friends and family come to visit, it's quite a masterful feeling to be able to say "Hey, would you like to watch some video of the family trip to Universal Studios?" or Check out this song my Son "Blaz" did with his group "Infamous C-Note Click!" (Blatant Plug Alert!)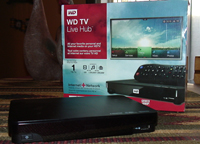 The problem for most Techie's of just about any level is the concept of integrating a Computer System with the Home Entertainment Center. Some of the issues centered around space for a Mini tower, heating from the Computer Components and also having the proper connections from the PC or Mac to the HD Television screen.
This is where one of the companies that specializes in storage comes to the rescue. Western Digital has been producing solutions for your digital content for years with an official start in technology back in 1970. While media wasn't as widespread as it is now and our choices for how we were entertained may have been limited for many to about 3 channels, it has taken on new life in 2010.
Western Digital sent us over the WD TV Live Hub Media Center which is a device best described as the bridge to your digital content. With One Terabyte of storage, the WD TV Live Hub Media Center connects easily, in just a few steps, to your home entertainment system. For those that want a media device but are still on older television technology, Component and Composite cable ports are available to connect the unit. The beauty of the WD TV Live Hub Media Center however is in the HDMI 1.4 port for connecting to the HDMI in of your 1080p capable television. For those shooting High Definition Video and wanting to be able to playback without burning to Blu-Ray, this is a great option. Converting your Digital Video media to a variety of formats for playing back on your WD TV Live Hub is now easy to share.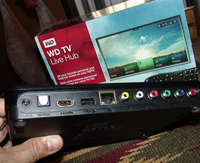 Getting your Digital Content on the WD TV Live Hub, whether it be photos, music or videos can be done with connecting an External drive or USB flash drive to either of the two USB Ports. In the process, the Western Digital device will see the connected unit and play either off the device or sync the content to the 1TB of storage. This is not a bad idea considering, may i remind you, it is 1TB of storage!! Sharing folders could also be accomplished although it was a bit trickier for us with the Windows 7 Networking and could imagine the average user becoming a bit frustrated. The easiest method was dropping the content we wanted to share in the Shared Folders on the networked system and we were ready to go.
The WD TV Live Hub Media Center also comes with an Ethernet port which can be used for not only connecting to and streaming the digital content from the household computers but also for accessing online features right on your Television. YouTube, Facebook, Netflix and Pandora are a few of the options. Navigating and using the services was a bit cumbersome with the handy remote control and would recommend a USB Keyboard for this task. We would like to have seen a browser to give us the ability to go out onto the web and explore however the current system supports only the programs installed as a part of the unit. The screen layout is impressive for selecting the features you would like to use and we found it easy to select through those screens.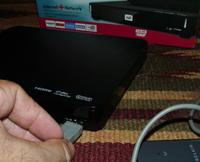 For those that would like to connect to the Internet and do not have a Ethernet drop nearby, they can connect to Wi-Fi in the home with a USB dongle which could be purchased from just about any electronics retailer. We connected our Belkin 802.11G adapter and was able to join the network after going through a few screens, entering the Access Point password and we were on. Also, be sure to pick up an HDMI cable or Composite, component cable depending on which method to connect to the television.
The WD TV Live Hub Media Center is a nice product to have in the entertainment center and for only around $199, it gives you quick and easy access on your television to your digital media. The 1TB of storage can keep the media clutter off your working computer and make it a great way to have visitors watch it together. Go ahead, be a geek. It will feel great!
Listen in to our interview with Senior Marketing Manager Matt Bennion of Western Digital share with us on a new way to connect your entertainment, information and internet with the Western Digital TV Live Hub Media Center.
Download the Audio (Right Click - Save To)
For More Information
Visit the Western Digital Website
http://www.wdc.com

Back to top of page