True Image 2017 for Imaging and Backup
Gaidar Magdanurov
VP and GM Consumer Brand - Acronis
There is probably litle worse then powering up the computer to see the message drive not found or hearing the click click click of the hard drive and that black screen with the flashing cursor. It has more than likely happened to most of us and then that sinking realization sets in...you didn't make a backup!
With the Cost per MB/GB at all time lows, the idea of putting EVERYTHING on one hard drive is tempting however in the event of a drive failure or malware attack, this can be devestating without a backup in place.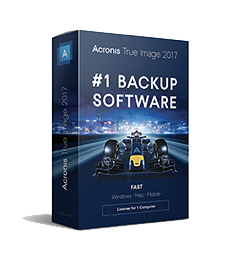 Acronis True Image 2017 is now available and makes the process of restoring your data in the event of a loss pain free. True Image 2017 goes beyond idea of just backing up your photos and documents, Acronis True Image 2017 can make a virutal snapshot of your Hard Drive. This is certainly useful in the event of a drive failure to be able to replace the drive and then the Image so your drive will operate withouth you having to reinstall the operating System and all the programs associated with your system. If you have certain settings you have configured, looks, key commands etc..those also with be working as your previous drive did before its demise.
This latest version offers some new features and according to Acronis testing, performs about 60% faster then previous versions. Last year we Cloned 4 computers at the KGVY Radio Station with True Image and even then found the process painless and honestly within a reasonable time. Acronis True Image 2017 is also, as with previous versions, very easy to use. A Wizard driven interface can help even the novice DIY to a larger or even faster hard drive, again without even having to resintall programs or operating system and its number of updates. Acronis True Image 2017 does its magic on not only the PC Platform but also on Mac.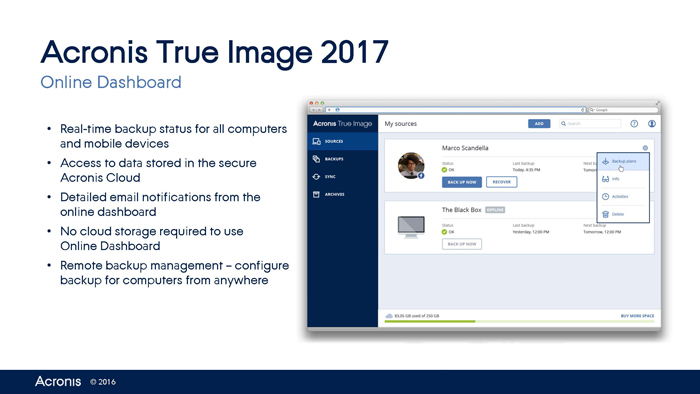 Among some of the 50 plus updates, Acronis True Image 2017 users can backup an unlimited number of wireless devices such as iDevices and Android Devices including phones and tablets. Users will find they could even perform the backup to their local computer over a connected Wi-Fi network within the home or office. Have a family member that's not extemely tech savy but would like to have a backup of their system? You could manage thier systems and perform those backups with remote backup management. This can be accomplished via your computer or even your mobile platform.
If you are like many consumers, you may post all of your images to facebook. With Acronis True Image 2017, your Facebook profile, comments, likes, contacts along with photos and videos can be incrementally backed up. While this may not be the main reason to purchase the Acronis program is certainly adds to the safety of your digital data. You have options as well, Backup to an External Drive, Seperate internal, Network system, NAS device or even the Acronis Cloud.
For More information, Listen in to our Interview with VP and GM of Consumer Brand for Acronis True Image 2017 Gaidar Magdanurov and take the program for a spin with a free 30 day trial of the program. If you have ever lost a drive or data, the backup strategy you pick could save you countless hours or time and heartache over lost photo moments.


For More Information
Visit the Acronis True Image 2017 Blog
http://blog.acronis.com
Follow Acronis on Twitter
http://twitter.com/acronis
Follow Acronis on Facebook
http://www.facebook.com/acronis