TurboTax 2016 is featured at TechtalkRadio
Lisa Greene-Lewis
CPA and Tax Expert
Intuit/TurboTax
It's that time of the year again, Tax Time - and filing state and federal taxes has never been easier whether you are in front of your PC/Mac or on the go with your mobile device. Intuit has been helping tax filers for 30 years with its popular Tax filing program TurboTax.  With this year TurboTax offers different versions for different users. 
The Basic version is the most simplistic with the importing of last years TurboTax data and other tax software programs to start the process.  Financial data including W-2's, Investment and Mortgage info can also be easily imported from participating institutions. All of the products through the entire TurboTax line are completed with step by step guidance to make the process concise and actually can be quite fun.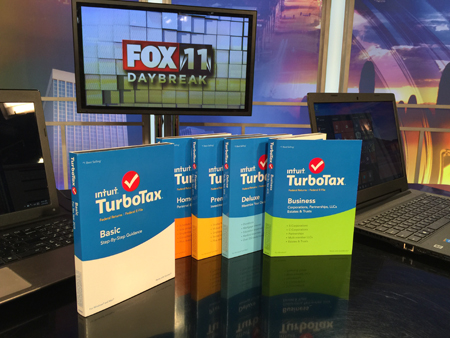 The next step up in the product line is the Deluxe version which is great for those looking to itemize deductions and also includes one state product that can be downloaded. With deductions and donations, Risk can be minimized with the integrated Audit Risk Meter. 
For those with Rental Income, Stocks, Bonds and even employee stock plans, The Premier version is the perfect solution for the Tax Filer. New features in this program can also help provide answers to questions on proper ways to save money for the next and future years. 
If you are like many Tax filers, you may own a business, Home and Business can help with Small Business Taxes, self employments cost and deductions. The program can also be used to create W-2 and 1099 forms for employees and contractors. 
While many of these versions offer different features, millions of tax filers have used the Free Online Version to complete and efile their returns. Absolute Zero offers for those qualified, Zero to file Fed, State and Efile, Zero. Those that might not qualify to for the Absolute Zero plan can also use the TurboTax Online program to determine filing status, amounts to return or pay and Pay Zero to run through this. You would only pay when you file. 
To get started today, visit TurboTax.Com, download the App or purchase your retail kit. 
Check out our segment from KMSB Fox 11 Daybreak where we featured a look at the TurboTax product line
Tune in for our discussion with Lisa Greene-Lewis learn more how TurboTax can be used to not only file for free if you qualify but be used ahead to save money and plan ahead for future tax years. Be sure to check out the blog for TurboTax at http://blog.turbotax.intuit.com for great tips and articles from Lisa Greene-Lewis and others.

For More Information
Visit TurboTax
http://www.turbotax.com

Follow Linksys on Twitter
http://twitter.com/turbotax