Bruce Hawver CEO and Kim Rom Director of Marketing - SteelSeries
This is an Archive originally recorded in April 2012 - Personel, Technology and Prices may have changed and we provide this for your research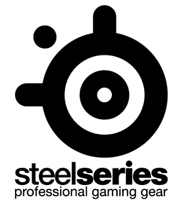 A recent report from the Entertainment Software Association stated that 40% of US Gamers are Women. While these gamers may not all be playing Crysis, Hellgate, COD4 or Team Fortress 2, the numbers have been growing over the years as designers of game titles have understood that and presented in game characters that were female. Hardware manufacturers have also identified this and one that presents High performance tools for the gamer, SteelSteries now offer a bundle designed for the women gamer.
The Steel Series Iron Lady Ikari Mouse is a High Performance mouse to give competitive gamers an edge while playing. This Mouse and Pad we tested from the company went through about 15 months around the globe of research in the way female gamers play and ergonomically what they needed to enable better gaming.  The company took into account the shape and material when producing the Ikari mouse.
Over 5000 competitive gamers submitted the feedback to Steel Series which helped the company deliver what we found to be an incredible performer on the game field. This is also the only mouse device we know of that features a button to adjust the hardware counts per inch for precision by increments of one directly on the mouse. Adjusting is done on a small LCD screen at the bottom of the mouse.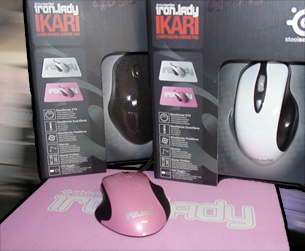 While the ergonomics of the mouse have been well thought of, gamers come in many different sizes and hand preferences. Steel Series worked in making the mouse available for both Left or Right handed use, the user can select the preference. This is not a Wireless mouse, gaming is best done without any possible lag so the wire should be as minimal and well designed as possible. Steel Series has accomplished a well thought of wire for the Iron.Lady Ikari, braided in construction to improve durability.
We talked with the company CEO Bruce Hawver from his office in Chicago on the competitive world of professional gameplay and how teams have adopted the use of the SteelSeries products. We also found out from Bruce on some of the many other products that can enhance the gaming experience and maybe even bring up my challenges in Call of Duty 4! Director of Marketing Kim Rom, shares with us the amount of research that has gone into developing the Iron.Lady Ikari mouse.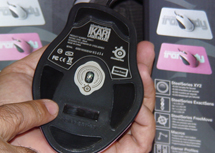 The company has a bundle which includes the Steel Series QcK mouse pad with a textured surface for this laser mouse. The pad features a non-slip rubber base for sturdy unencumbered game play. The Steel Series Iron.Lady bundle is set for $95.99 and should be available soon! For more information take a look at http://www.steelseries.com 
Tune in and listen to our discussion with Bruce Hawver and Kim Rom on the SteelSeries Products on TechtalkRadio.!
Download the Audio (Right Click - Save To)
For More Information
Visit the SteelSeries Website
http://www.steelseries.com

Back to top of page