TechtalkRadio Reviews
Home Telephone Services
Andy Taylor takes a look at Products and Service Options from MagicJack and Vonage. Both Offer different features within the service and both vary strongly in price.
Andy stopped by the studio of Fox 11 KMSB in Tucson for this Video Look at the products with Daybreak Host Mark Stine
Home Phone Services with Technology
Andy Taylor

It seems like just about everybody is tethered to their mobile phones these days, beginning back in the mid-90s with the prevalence of technology and the Internet. Even with the growth in the mobile wireless market, land line use increased. This was due in part to subscribers of phone companies wanting dial up Internet access, fax machines and multiple lines. With the mid 2000's this trend began to change and the Internet delivered from satellite providers and cable companies was perfectly in line with the growth of the reliance on mobile wireless service. 

While many use the cell devices now for just about everything, land lines have in many cases transformed into Internet-enabled services. Even cable companies are now offering home telephone services, which can perform a variety of functions and still cooperate with a mobile phone. While the benefit of having copper, a traditional land line, for a dedicated line can circumvent power outages, many grew tired of large bills and found savings in consolidating the technology. 

Today there are several product on the market to give homes and business that land line feel, but also work with the high speed technology already available in many homes. Both of these products simply require a broadband Internet connection and a phone and the user is good to go. 

The first of these products is 'Magic Jack', which was first onto the market.  They offered one year of service for an extremely low price. It was as basic as it could be, simply plug the 'Magic Jack' into a computer's USB port and a phone into the Magic Jack. Many customers thought it was not very attractive, and that call quality suffered, really eating up processor time during phone calls. Many users moved away from Magic Jack during this time and moved to Vonage. 

Vonage was a separate Voice Over Internet Protocol or VOIP device. It worked with a user's high speed Internet, in most cases giving them a local number.  Hook-up was simple plug into an Internet connection and a phone and the user was good. While Magic Jack did offer a low price for the device and an annual price for the phone calls; Vonage offered better call quality at a higher price, yet beat the prices of the local telephone company.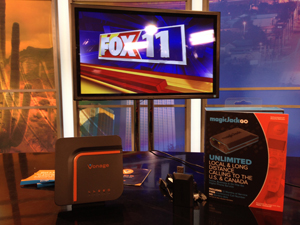 These two products are still around and have significantly improved in quality and offerings. Magic Jack Go can still work with a computer but also can be independent of the Mac or PC and easily plug directly into the router for calls. The Magic Jack Go offers unlimited local and long distance calling to the U.S. and Canada and when sold, includes 12 months of service, with no monthly bills. The device is available for under $50, an average for many user's monthly phone bills, without the added extra of a land line.  Another benefit to Magic Jack, calling another Magic Jack user in another part of the world - the call is free. Other  free services provided are call forwarding, voice mail, call waiting and 411 services. 

With the Number on the Go feature, users can have the Magic Jack ring on their mobile device when they are away. This feature is provided by both the Magic Jack and Vonage; this service states that as long as the user has the Hub device plugged in, they can use that number anywhere. Now a mobile phone becomes the center for both home and business calls. Call quality is much better now than previous products and of course that goes hand in hand with the improvement of Internet speeds.

Vonage services can be more pricey then the Magic Jack offerings, features and call quality have always been great. Vonage's services starts at about $12.99 a month and can increase depending on how often the service is used. Fax lines can also be included in service for an additional $10 per month. 

The Vonage Extensions, similar to Magic Jack's Number on the Go feature, not only lets users receive calls but make them as well. Several features are available standard with the Vonage Service, also with easy set up. Again, it boils down to quality and features and both have a lot to offer. Users will see a higher cost with the Vonage services including possible activation fees which can be waived with a contract. 

Those interested can check out the two services which often offer a trial service for 30 days to use and see if it is for them. Check them out Magic Jack - http://www.magicjack.com  Vonage - http://www.vonage.com