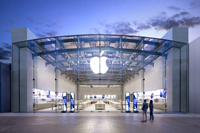 Apple is opening up even further in its desire to aid the environment with a recycling program that can offer store credit towards products that may still be in working condition.
Apple helps demonstrate on the many ways the environment could be helped with everything from energy and water conservation to more efficiant technology. It is a vision for the company that has continued in its development of not only the technology but the manufacturing of the products.
The iMac which came out in 2002 used a meager 8watts of power when compared to the Original iMac which packed away 35Watts of power. Today's iMac utilizes about .9w in Sleep Mode.
The company is offering up a program to help the environment with the recycling of Apple products. While your product to be recycled at your Apple store must be in reasonable shape and in working condition to qualify for store credit, if you take a lead brick original iMac in and it doesn't power up you may not get a credit however it's getting recycled - A Win Win for everybdy. Click the link through to see a film presented by Apple on the companies partnership with The Conservation Fund and Apples Renewable Micro Hydro Project.
For More Info check out http://www.apple.com/environment