ROCKSTARS GAMES RELEASES GRAND THEFT AUTO V FOR THE PC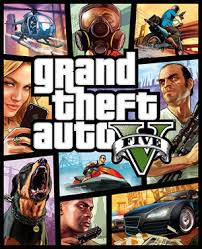 I have to wonder what RockStar Games is doing to me! Releasing a highly anticipated game title with one day left for the Tax Deadline! I wonder how many gamers will flip the coin today!?
When you hear the title "Grand Theft Auto" You generally know this is a game that has a history of violence and situations that should only be operated by an adult. The very successful franchise continues to this day and technically it is not just a thrown together schlock fest, it couldn't be -  Gamer's wouldn't go for it.
A successful Video Game Franchise will come from the loyalty of the gaming crowd that in turn will expect high end graphics and fluid game play and that is what the good folks at Rockstar Games are handing out. Today the company announced the availability of Grand Theft Auto V for PC at Retail or Digital Download through Steam and Rockstar.
For somebody that has played the "Original" Grand Theft Auto in the top down perspective it is truly breathtaking for the world that has been created for the gamers to play in. A place for reality TV stars, paparazzi and faith healers - Los Santos and Blaine County, the worlds of Grand Theft Auto V,  are available in resolutions of up to 4k with the game running at 60 frames per second at 1080p! Time to hook that 4k monitor up to the PC!
While some may naysay the 60fps technology, some agree once you move from 30fps to 60, it is hard to go back. Customization of the game is also offered with 25 separate configurable settings for texture quality and graphics along with your mouse and keyboard set for your preferences in game play. PC Users will also get to experience "First Person Mode!"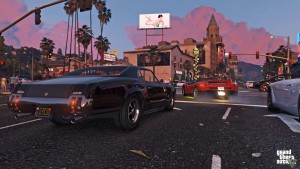 Just like any successful game title, Online play is vital for its life. The ability to play against others and to share your experience are two features that have not been left out.  Grand Theft Auto Online will support 30 players and two spectators for your gameplay while an included Grand Theft Auto V Rockstar Editor features tools to capture, edit and share game footage.
The Rockstar Editor next to the gameplay is one of the most anticipated features as now Gamers can create stories and even short films with the World of Grand Theft Auto. Check out this Video of "Running Man" Created by the Gaming Channel Eight Bit Bastard.
Do you have a favorite Grand Theft Auto Online character you want to keep using? No problem! Your character AND progression can be transferred to the PC from any Current Platform! There is so much to love about the PC Version of Grand Theft Auto V  and with today's availability with a 65GB download from Steam, there will be some happy gamers creating some havoc in Los Santos.
For System requirements be sure to check out this link