This is an Archive originally recorded in April 2011 - Personel, Technology and Prices may have changed and we provide this for your research
The Future is Discussed with Intel's Joe Jenson
Joe Jenson
General Manager, Embedded Computing Division for the Embedded and Communications Group, Intel Corporation
I really do enjoy sharing information with people whether they be readers, viewers or listeners to TechtalkRadio on new technology that will be available in the near future. I have thought back to my childhood to imagine how life was without all the cool gadgets and gear and find while it may have been a peaceful and fun upbringing, the tech that we have today makes it so very cool for our future generations.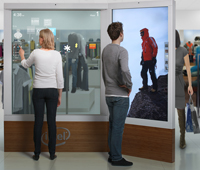 Sure, the new generation may miss out on dialing a phone, listening to a record album or playing pong, but life will be faster paced, more convenient and opportunities to enter the tech sector may be easier to achieve for the talented. We spoke today with the General Manager of the Intel Embedded Computer Division in Chandler Arizona on research and manufacturing the company is doing to further develop embedded computing.
This idea of putting computers in everything we do may seem orwellian to some however it's benefits are numerous. We see embedded computer systems in vehicles, airplanes, medical equipment, entertainment devices, home and garden and even restaurants. Business use embedded system for just about every facet of the operation from inventory management to timekeeping to completing the sale.
Joe Jenson visited to tell us about a Proof of Concept that was shown at the Fall 2010 Intel Developers Forum which in theory will give shoppers at a mall or store the ability to walk up to a Digital Sign and interact with that sign. This can be in many ways from looking up a product and then showing where that product is in the store to searching for the best price and allowing that merchant to match a posted or advertised price giving the merchant the close of the sale but also saving the consumer the time and energy driving around town. Social Networking could also be tied in to the Digital Signage to share thoughts on a product with friends in the network while out shopping to digitally trying on some clothes without having to check the dressing room.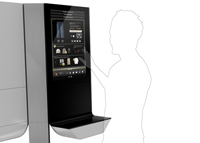 Digital signage is already in use in countries around the world and the concept already provides solutions for the consumer and business owner. At the Beijing Airport an estimated 68 million travelers pass through every year. Close to 600 High Def screens display messages to travelers 24 hours a day, 7 days a week and these signs are all easily reconfigured using technology from Intel with the Intel Active Management Technology built into the system with the correct specifications.
We also talked with Joe about Arizona Technology and what makes Chandler Arizona a viable location for tech companies such as Intel which has had a presence in Arizona for over 30 years with it's first location in Deer Valley. The Educational backbone to Arizona with University of Arizona and Arizona State as well as NAU also provide many graduating students opportunities to work that education in the state.
Tune in and listen to our segment with Joe Jenson, GM of The Embedded Computing Division for the Embedded and Communications Group, Intel Corporation and let Joe be the one to tell you what's going to be seen in the future.
ABOUT JOE JENSON
Joe Jensen, General Manager, Embedded Computing Division for the Embedded and Communications Group, Intel Corporation: The Embedded Computing Division is responsible for driving Intel Architecture products into the embedded market. Key growth areas include Digital Signage, Retail, and Home Energy Management. In prior roles Joe directed the Strategic Planning, Marketing, and Operations for Intel's Consumer Electronics Group. Before that he was the General Manager of the Embedded Intel Architecture Division within Intel Corporation. Intel's Embedded Intel Architecture focus is the development of new market segments and applications for Intel core PC and Server technologies. These market segments include communications, point of sale, industrial computer, and educational computing. Joe has a BS in Electrical Engineering from South Dakota State University and an MBA from Arizona State University. He started with Intel in 1984 in engineering and has worked in all aspects of the semiconductor business from product design, through manufacturing and to marketing.