The Linksys WRT1900ACS is featured at TechtalkRadio
Justin Doucette
Director of Marketing
Linksys
A few months ago I decided it was time to update not only my older cable modem but also upgrade the router which I had been using for over 4 years. With the newest capabilities of the higher speed from my provider, XFinity, I wanted to purchase my own modem vs renting and with that make sure the speeds in the household would benefit from the newer technology. I had been on a N class modem but with Hulu, Netflix and even our broadcast show using more bandwidth, it was time.
The Linksys WRT1900ACS was our solution for handling the increased bandwidth on the home. An upgrade from the companies previous WRT1900AC, the ACS model featured the elimination of a fan and the inclusion of a 1.6Ghz processor and doubling of the memory to help handle the off loading of signals throughout the network. The Linksys WRT1900ACS offers a simultaneous dual band 2.4GHZ and 5.0GHZ allowing the user of the faster speeds with twice bandwidth and avoiding interference from selectable dual band models.
We had to wait a few weeks for the Linksys WRT1900ACS to show up on shelves, the previous model was and still is available an can save a few bucks over the newer ACS however the wait was worth it. Tech users will also love the Open Source capabilities of the WRT allowing it to run DD-WRT. Safety for users has been built in to those that would want to return to the easy to use Linksys Smart Wi-Fi interface on the WRT1900ACS.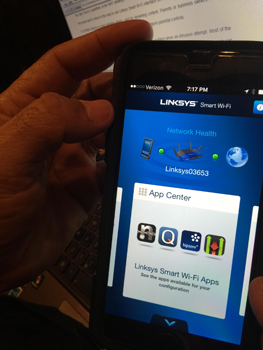 I can also see which devices are connected to my network and be notified when an intrusion attempt. Most of the settings on your router, including the media prioritization can be managed from a Free App from Linksys which can be downloaded to your device. We love the Linksys WRT1900ACS for its performance and ease of use in set up.
For those looking for a Network Central file type server, The Linksys WRT1900ACS features external storage connectivity. Attach a USB 3.0 Device or eSATA and share the files across the network easily without setting up each computer. Plans are in place to expand this funtionality and possibly offer this feature to those wanting to connect from outside the network.
We speak with Justin Ducette about some of these features along with those not needing this power house of a router and options available from Linksys. We find out a little about the Linksys Wi-Fi Range extender RE6700 AC1200 along with an announcement on the latest new advancement delivered at #CES2016.
Check out our segment from KMSB Fox 11 Daybreak where we featured a look at the Linksys WRT1900ACS.
Tune in for our discussion with Justin Doucette and discover why Linksys WRT1900ACS will handle many of the different wireless demands in your household.

For More Information
Visit Linksys
http://www.linksys.com

Follow Linksys on Twitter
http://twitter.com/linksys