This is an Archive originally recorded in August 2010 - Personel, Technology and Prices may have changed and we provide this for your research
Tucson's Authorized Apple Dealer and Repair Simutek featured at TechtalkRadio
Rich Meindl
Owner - Simutek

With today's world of both PC's and Mac systems, it is always great to learn about new ways to get the most out of whichever technology platform you choose. One way for those that have opted for the Mac platform to do this is to become part of a user group such as the TMUG (Tucson Macintosh Users Group) and to connect and network with other Mac users. Another way is to visit your independent Apple dealer and find out about workshops or seminars that might be coming to the area and this is exactly what Rich and the dedicated crew at Simutek has coming November 4th 2010.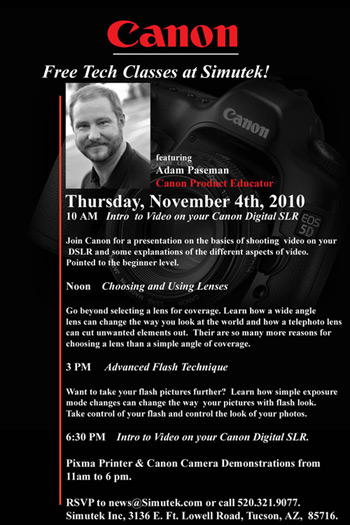 Canon held a workshop on November 4th, 2010 at Simutek in Tucson Arizona. The workshop was actually broken down into 4 different sessions to cover some of the newest features of the DSLR technology from Canon. The first in the full day event, which also featured exhibits of the latest products from Canon, focused on the video capabilities of the recent Canon DSLR cameras that can now photograph with all the features found in previous Film type cameras but also take High Definition video. This session was designed for the beginner to the DSLR pro that maybe has not integrated the video capabilities into the workflow.
A Second session focused on choosing and using lenses to get the required shot. With so many options available to the DSLR Canon Equipment, learning when and how to use a wide angle, setting the proper focal length and picking the proper lens will be covered. The third session in the series covered flash techniques which can come in very handy whether the subject be intimate settings or concert crowds. Taking control of the flash can give you more control of the final output.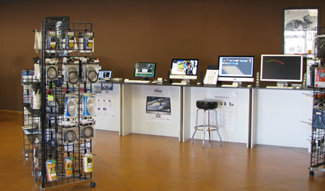 The final session returned to the subject of the video capabilities of the DSLR camera which is becoming a popular feature of this technology. Even recent Video Editing software TechtalkRadio looked at includes the process to import and edit videos taken from these HD Video capable cameras. The sessions took place throughout the day and seating was limited to 40 seats. While the sessions took place or in between them, , visitors were also able to browse and chat with Canon representatives on hand for demonstrations of other Canon products such as Printers and Scanners. Simutek staff was also on hand for Apple questions and how all of these features can be used on the Mac platform,
We enjoyed talking with Rich from Simutek who recently purchased the company after 17years of association. For those Mac users or those thinking of going Mac, the customer service level and professionalism has been something the Simutek store and staff have been noted for. Listen in to our streaming audio interview with Rich from Simutek and this informational workshop from Canon.

For More Information
Visit Simutek
http://www.simutek.com

Follow Simutek on Twitter
http://twitter.com/simutekaz