TechtalkRadio Reviews
The Canon Selphy C-910
In this Segment from Fox 11 KMSB Daybreak Andy Taylor visits with Lydia Camarillo and shares some of the features of the Canon Selphy C-910 Compact Photo Printer
Andy Taylor checks out the Ease of Setup and impressive output from the printer which weighs in at less the two pounds. Also impressive is the price point for the Compact Printer from Canon at less the $99View More Videos →

The Canon Selphy C-910

Andy Taylor
As a user of the Canon DSLR 7D I wanted to take a look at the Canon Selphy C-910 Compact Photo Printer to see just how good the quality of the small compact printer could be.
Most of the time when we take a photo with our Cell Phone or Tablet device, the pic will stay on our Smartphone's, in the cloud or on a hard drive with thousands of other photos. It's nice to share with our friends via text or social media however there are still times we may want to print out the photos that really mean something to us and maybe even hang that photo on the wall.
We took a look at an easy to use solution that not only takes up an minimal of space but also prints some great looking photos and is relatively inexpensive! The Canon Selphy is geared at the photo hobbyist, professional and even just the everyday photo taker whether a Selfie or a landscape! Priced at under $100 the Canon Selphy C-910 prints a bright, glossy photo that is water resistant and according to Canon could last up to 100 years, all in about 47 seconds.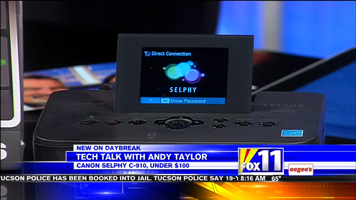 The process to print the photo itself is through Dye-sublimation which involves heat that is used to transfer ink to paper. The output is brilliant and prints in full edge to edge borderless photos in both credit card and 4x6 Postcard size.
Using the printer is extremely easy as well. For some the terms Wi-Fi Printing and Air Print may intimidate, setting up the Canon Selphy 910 and printing was incredibly foolproof. If you are still a bit leery, users can print directly from a SD type card or through the USB connected to the PC or MAC. Setting up and selecting the print option is done on an easy to navigate 2.7" Tilt up LCD on the top of the printer.
One of my favorite features it the AirPrint. With my Apple device I can select the Printer as a Network Access Point with my devices Wi-Fi and then with the free downloadable Canon App, view and print my photos directly from the phone. No Network or drivers needed to configure.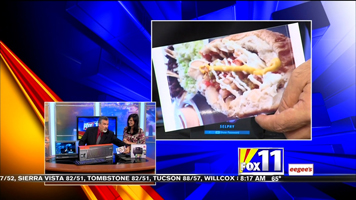 If you are looking to be truly portable with the Canon Selphy C-910, you could purchase the optional Battery and Adapter for about $80 with freedom to print completely untethered. While the option to carry the Smartphone into a store that prints photos and pay about the same in cost per print.
This allows you to do all of that with you in control. Consumables are available in different volumes, one set from Canon includes the Ink Cartridge with up to 108 prints and paper set for around 36.00.
From photo to print in under 47 seconds, not disappointing and the quality looks great! For more information on the Canon Selphy C-910 Visit http://www.usa.canon.com

Andy Taylor is Host of TechtalkRadio and serves as Tech Correspondent to Fox 11 KMSB Daybreak. Please feel free to drop him an email with your comments, tips and questions to andy@techtalkradio.com. Be sure to visit the website athttp://www.techtalkradio.com for Videos, Stories, News on Technology and Interviews. Follow on Instagram #techtalkradio