This is an Archive originally written in October 2010 - Personel, Products, Technology and Prices may have changed and we provide this for your research
TechtalkRadio Reviews Portable Headphones and Speakers from ChicBuds

Slick and Andy from TechtalkRadio have had the opportunity this month to take a look at some new products which help promote awareness of Breast Cancer. October is Breast Cancer Awareness Month (BCAM) and many campaigns are in progress throughout the month to heighten the awareness of issues relating to breast cancer. One company that is making a difference is ChicBuds, the stylish designers of comfortable technology accessories is donating 10% of all PINK product proceeds to Susan G. Komen for the Cure. A few of the products that TechtalkRadio took a look at include The Watermelon ChicBud Earphones which are available in pink-on-white.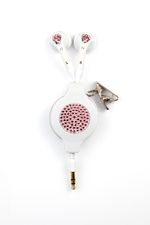 These fashionable earphones are retractable making them easy to store and carry with you. The ChicBuds are are also a great accessory for your iPod, portable CD Player or listening to music through your desktop computer or laptop. Andy Taylor's 15 year old daughter Destinee had a chance to check them out and found both to be stylish and pleasing to the eye. She also stated "I like them because they are pink and they sound great, and because the different gels for the ear let me pick one that was most comfortable."
Decorative Crystals adorn the chicBuds from Swarovski giving them almost a runway type look. A handy metal clip can easily secure the chicBuds to your clothes, bag, backpack etcetera. The chicBuds earphones with the Swarovski crystals come in 5 different colors including Grape, Watermelon, Blueberry, Sour Apple and Marshmallow on white or even on a black background.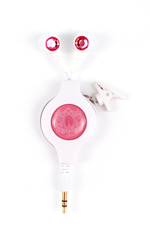 Another of the fashionable earphones is the Fauvette model. In testing out the Fauvette, Slick believed that this decorative earphone offered better quality of sound, and much better bass response then the previous model. The Earphone ships with 3 different silicon tip sizes for users to find the most comfort along with two different designs "Faith Hope Love" & "Chic Love Pink" While these units do not carry the crystals, a stylish design and lower price not only makes these pleasing to the ears but also to the pocketbook.
Sound and Music directly into the ear with comfort is one of the specialties for ChicBuds however for those looking for an unattached connection with sound, the very cool and trendy key chain speaker may be the solution. Looking like a round ball at the end of the key chain, the unit features a 2 watt amplified speaker that plugs into a portable device or computer and sounds are pumped to the user or group of users. As Andy Taylor of TechtalkRadio says "It doesn't get any easier than this!"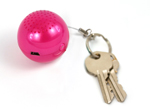 The small palm sized ball feature a Built-in lithium-ion rechargeable battery and can play for up to 4 hours on a single charge. Charging is accomplished by plugging in a supplied standard USB cable. Sound is accomplished with a 3.5mm jack plugged into the source. In testing, Slick noted that the unit was "loud enough" in a a quiet area...to me, it sounds similar to a small AM radio." The ChicBoom product line is varied and also the pricing is very reasonable to the accessory market. A full look at the entire inventory can be seen at http://www.chicbuds.com
Check out our Interview with
One of the Owners of The Company
Nikki Gutshall
http://www.techtalkradio.com/hardware/chicblvd.html

For More Information
Visit ChicBuds
http://www.chicbuds.com

Follow ChicBuds on Twitter
http://twitter.com/chicbuds