TechtalkRadio Reviews
Teeny Drones
Andy Taylor gives us a look at the Teeny Drones 6-Axis Quadcopter that provides fun and entertainment
Priced under $40, the Teeny Drones come with a game like controller. There is a lot to love and enjoy about the Teeny Drones. I found myself getting some good excercise chasing after the Teeny Drone until I mastered, ok - got better- at flying! For More check out our KMSB Fox 11 Segment below and other great videos on our Video Archive Page.
View More Videos →
Teeny Drones - Fast Flying Fun

Andy Taylor
The Teeny Drone is a totally fun experience that can be had for not only youngsters but also adults. Similar to the Drones we have heard of that capture video and photos, the Teeny Drone is palm sized without the ability or concern to record videos or photos. The only purpose is to fly! This 6-Axis Gyro makes it extremely manuverable which of course provides a great deal of laughs!
I've always thought it was kind of funny with these large drones that serve filmmakers, surveyors and even real estate companies that the main purpose was to deliver great looking video, yet the desire to "play" with them in flight mode took a backseat. I look at those and think, "man - how fun would it be to fly them!?" Teeny Drone answers the question with its incredibly durable flying 6 axis quadcopter. When I say "durable" I stress the word! We tested out the Teeny Drone last week with our first flight of many indoors and that little guy took a beating.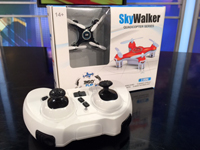 The TeenyDrone can fly to an altitude of about 80 feet and perform maneuvers such as a 360degree flip. Colored lighting on the Teeny Drone make it easy to spot from the Pilot who uses a game type controller paired to the Teeny Drone. The Controller features Power, Forward, reverse, left right and trim controls for stable flight, powered by two AA Batteries. The Teeny Drone itself is rechargeble and can last about 15 minutes of constant flight and is easily recharged using the supplied USB Charging cord.
The Teeny Drone is all about play and all about fun. I have had the RC Helicopters that have crashed and "burned" after a couple of uses, the Teeny Drone with its strong design in a small form factor changes that. The company realizes that there is always the possibility that the TeenyDrone could have a minor accident and provides the sale of replacement parts if that was to happen. Considering how we have used it, it would take a lot to break it.
View our Television Segment from KMSB Fox 11
You'll have a blast with the Teeny Drone which is available for under $40 through the Teeny Drone Website at http://www.teenydrone.com


Andy Taylor is Host of TechtalkRadio and serves as Tech Correspondent to Fox 11 KMSB Daybreak. Please feel free to drop him an email with your comments, tips and questions to andy@techtalkradio.com. Be sure to visit the website athttp://www.techtalkradio.com for Videos, Stories, News on Technology and Interviews. Follow on Instagram #techtalkradio